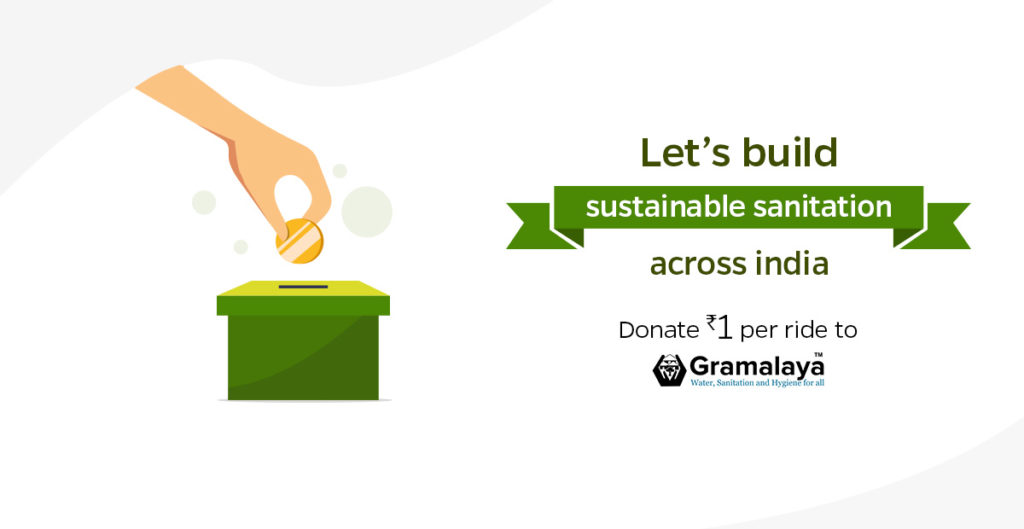 Access to clean and healthy toilets is a huge crisis across rural India. This has affected lakhs of lives over many decades.

We at Ola believe in bringing a difference in the life of every Indian citizen. Our mobility services have reached millions of lives across the nation. We are working closely with Gramalaya, an organisation dedicated to providing better water and sanitary facilities in rural areas.

Over the next six months, you can contribute Rs 1 towards this cause, with every Ola ride.

Here's how you can contribute on your Ola app, starting 2nd April, 2019:

Click on "My Profile"
Click on "Donations"
Toggle "Rs 1 per ride to Gramalaya"
Click on "Contribute on every ride"
Terms and Conditions:
Ola will be facilitating voluntary contribution on the App and the proceeds will be used to educate, spread awareness and other purposes related to sanitation promotion activities for certain identified locations and populations.
The Contribution will be made in the form of payment chosen by You for the Ride, whether through wallet or card. The Contribution will be represented in Your final invoice as a "Donation". Each Contribution shall be of Re 1.
In the event, You choose to make a Contribution to Gramalaya, Ola will add Re 1 to each of Your Rides:

This Contribution will be added to each Ride, until such time when You deactivate the opt-in from profile section, namely "Donations" and by disabling the toggle button. Such deactivation can be reversed by You at any time, by going to the profile section and turning on the donation setting in the "Donations" section.
Any Contributions made by You, cannot be refunded or cancelled once You have opted in for the Contribution on the App and a Ride has been allotted.
Ola will duly transfer the funds to Gramalaya as per arrangements between Ola and Gramalaya.
Notwithstanding the contents of this Clause (3), in the event a Ride is cancelled, the Contribution will also stand cancelled.

The Contributions can be made across all categories on the App, except on corporate rides and any bookings made through Ola kiosks.
Any Contribution made by You will be at Your own risk and You shall have no claim against any party arising out of or in connection with this transaction.
Ola will not be liable for the issuance of 80G certificate under the Income Tax Act. You can avail an 80G certificate for tax exemption corresponding to Your Contribution by Gramalaya, as per laws applicable to Gramalaya, by applying for the same through the provided for the same on Your App.
You agree and consent to Ola sharing your information with Gramalaya for the purposes of facilitating the 80G certificate. Other than this sharing of information for this particular purpose, both Ola and Gramalaya shall remain bound by confidentiality requirements.
The Contribution amount charged to Your invoice will not be liable for any GST or any other tax. The Contributions shall be entirely exempt from tax.
You understand and acknowledge that Ola is not a professional charitable organization, broker, financial institution, creditor or insurer.
All proceeds of the Contributions from You will go to Gramalaya for implementing their charitable purposes.
In addition to any other terms provided under these Terms and Conditions, Ola may, at any time, deactivate the option to make any Contributions, including for the purpose of ensuring compliance with applicable laws or any order of any regulatory, statutory or other authority.
Where the Contributions are deactivated by Ola due to any non-compliance with applicable laws, Ola shall refund, the total Contribution made by You to You, where such amount has not already been transferred to Gramalaya.
That the option to make above mentioned Contributions will only be applicable to Customers registered with mobile numbers with India's Dialing Code, i.e. (+91) registrations and whose ride country is India.
Ola may amend these terms and conditions, at any time without prior notice to You. Any changes will be effective upon posting of the amendments/modifications on the Site, and such amended terms and conditions will thereupon apply to and be binding You. By continuing to access or use the Site or any features attached to it, You will be deemed to have agreed to accept and be bound by such amended terms and conditions. If You do not agree to the amended terms and conditions, You must discontinue accessing the Site, Ola Share and/or its features immediately. The date on which the last update took place, is reflected in the legend 'Last updated on' at the beginning of this document.
For information about Gramalaya, kindly visit www.gramalaya.org.
For any queries, kindly email us: support@olacabs.com.